Here are a few of the letters of praise for Rob If you would like to add to this list please
---

Here is how that paint set I got from you looks on my bike. THANKS ROB!!!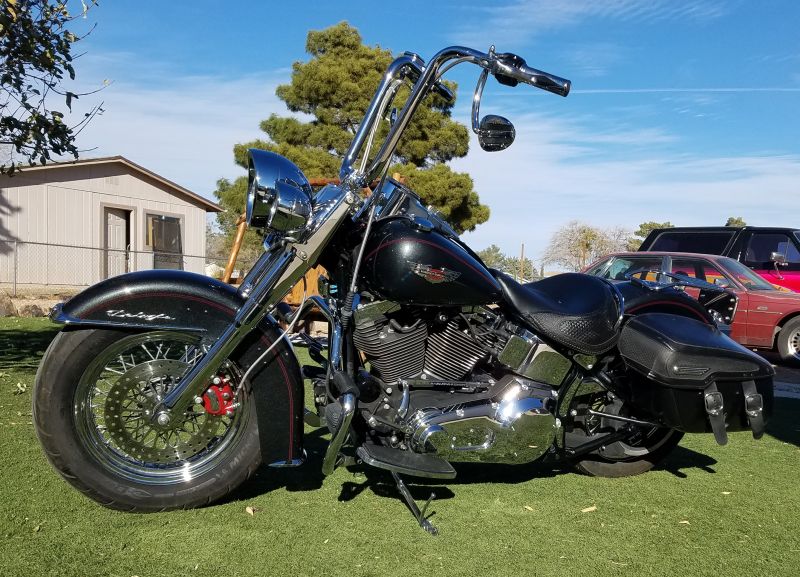 ---

Hey Rob!
FINALLY getting ready to fire a motor I bought from you a few years ago!! Quick question, do you fire them up after you rebuild them or is the first life she will see? Break in hints?? I am so pumped, been a long time coming! Thanks again for working with Cheri and I to make this dream come true!
Al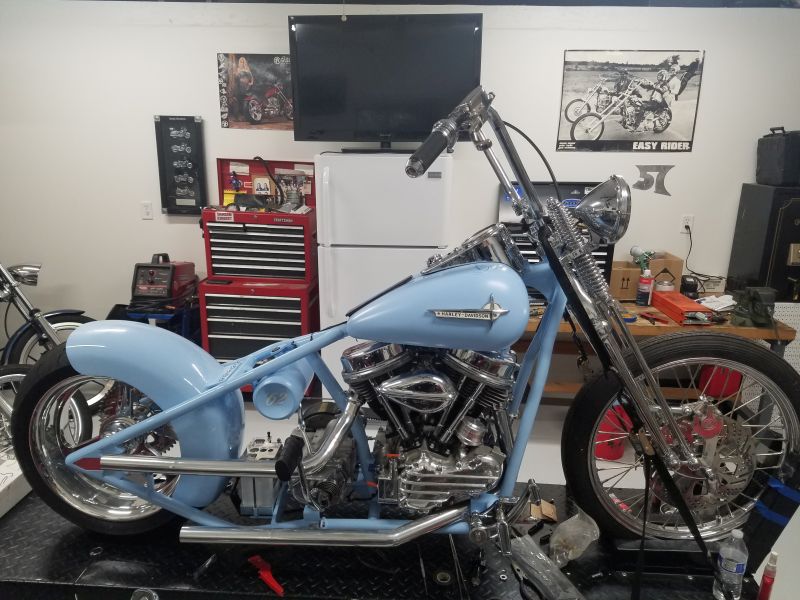 I am ready to kick and read, understand and memorized your start up/Break in procedure, will follow to the letter. Do you recommend a specific brand of 30wt oil? Also, no need to retorque the cylinders and heads? I am pumped!!!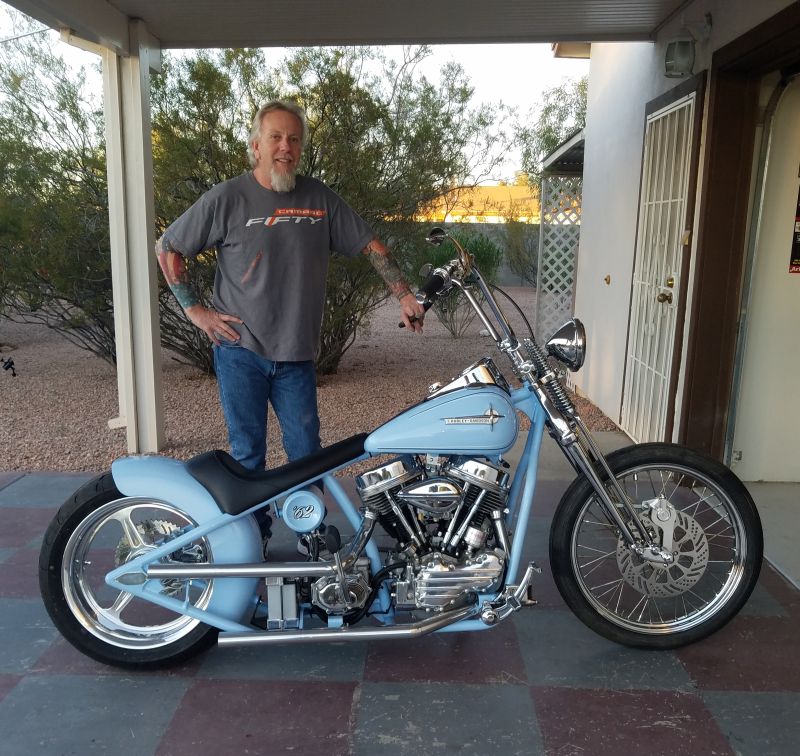 ---

Thanks to all who got my tank for the 2000 FXST carburetor model. Should be back on the road in a day or two.
Mike C

---

Thanks- nice location . I stopped in yesterday. The guys were very helpful and friendly. Great customer service provided. Thanks again. I will be buying from you in the near future and letting my friends know about your location and e bay sales.

---

I've been meaning to get back to you on the parts you had sent out. I promptly received the inner primary cover I ordered, you even shipped in an original box which was really cool if you, I can't thank you enough for the help with it I will be in touch for some more parts here in the near future! Once again thanks so much for the great experience on getting parts!
Best Regards
Jess

---

Rob,
I just wanted to say thank you! I purchased a used chrome front end for my cholo softail project from Robs. I met an illegal turning minivan and totalled my bike in May. I purchased the salvage for the s&s/bdl 3" primary/and tranny I replaced the frame and was having a hard time locating a descent front end in Canada. I found your website and when I called one evening (7 mountain time?) you personally answered and was extremely helpful. You offered to swap the lower tubes or sell me a chrome HD caliber for a hell of a deal.

---

Hi Rob,
I bought a front end and caliper from you awhile back and was impressed with the quality and price. You are currently checking on some parts for me but the reason for this e-mail is... I would like to send pics of my project and a review of your excellent quality and service for your website if you would like. Just let me know how to forward the image/images and review your way.
Cheers Rob! Here's an update of the progress of the build. The front end I got from you looks phenomenal. Powder coater exceeded my expectations. Will send pics of the tins when they are painted and installed. East coast Rob helping build bikes in Western Canada.. Happy New Year!! (Brian the pics were lost in transit, please resend. *webmaster)
Cheers,
Brian

---
Rob,
Thought you would like to hear it. Starts up usually 2-3 kicks. Got it titled as well. I'll send pictures soon. It's not 100% done, but I'm close. Feel free to send this to Steve.
Mike
---

Rob,Thank you and your team. This is a perfect piece. Can't wait to get in put on.
Thanks,Tom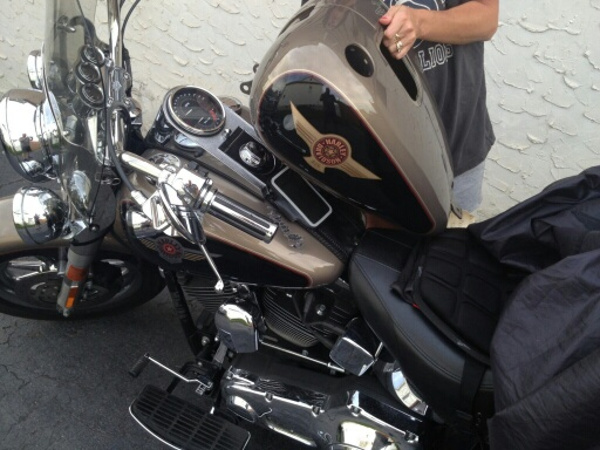 ---

Hey Rob I want to thank you for helping me with my parts and the wheel looked like new. thanks I will be in touch as I need parts in the future.
Joey
---

Tom's bike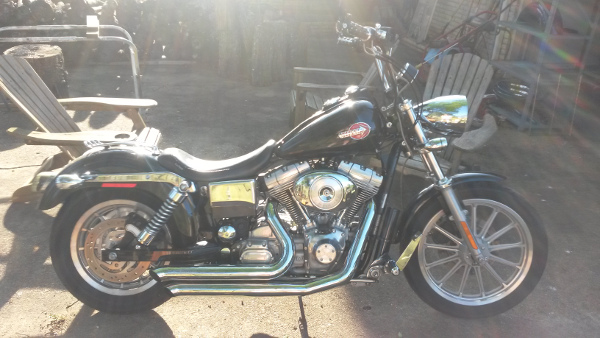 ---

48 panhead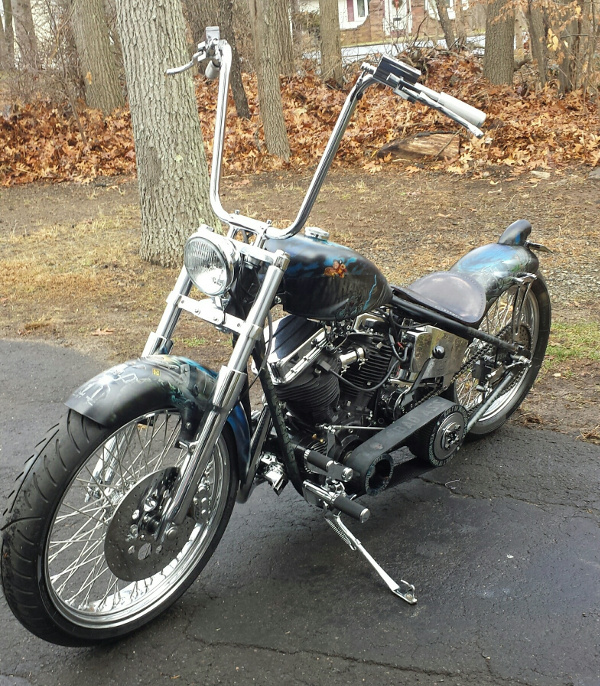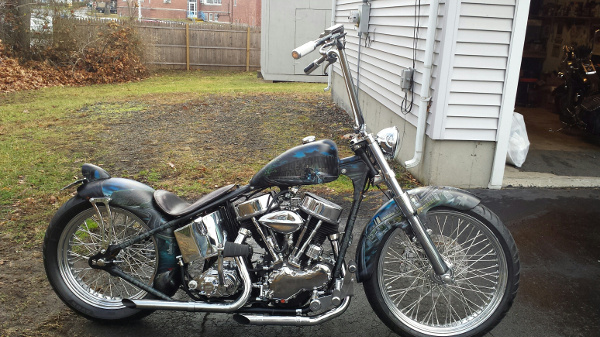 ---

Normans Bike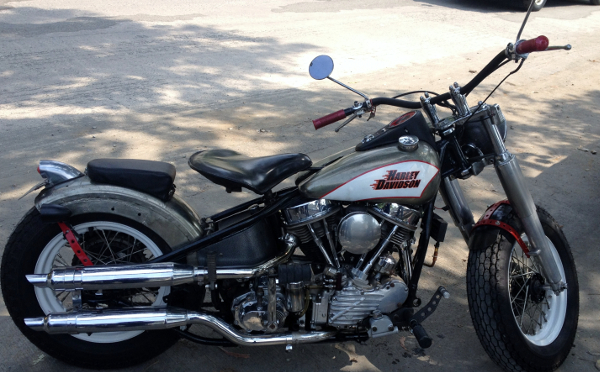 ---

Hello Rob & Vicky,
Here we are! A new bike, impossible to expect without your help, these parts are untraceable in Europe.
Thank you for all,
Philippe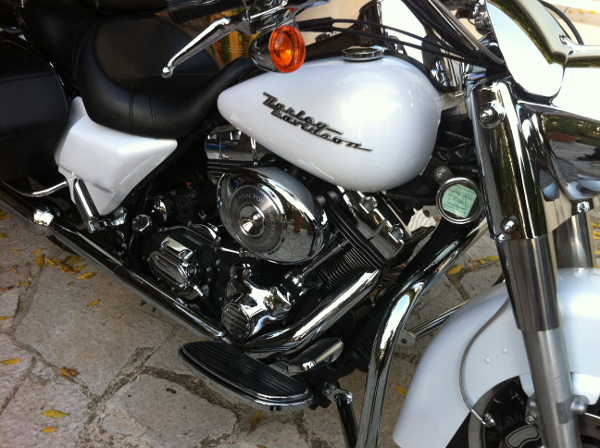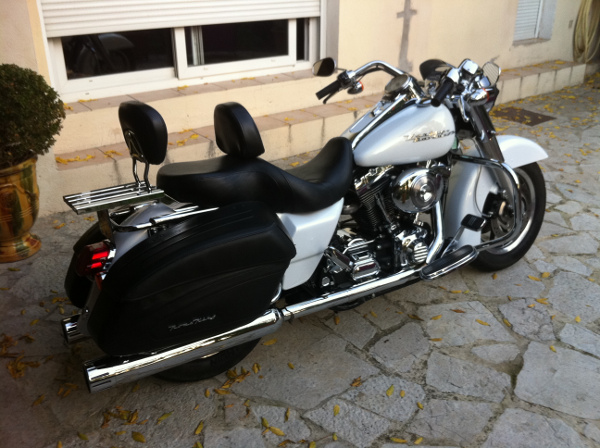 ---

Hello Rob & Vicky, every parcel arrived well,the set is magnificient. Without you I would not have been able to redo my motocycle.
Than you very very much!
Philippe
---

Morning,
I just wanted to say thanks for the awesome tank. It looks great; better than I imagined. Great doing business with you all!
James Hayes
---

Vicky, Thank you so much.. Please tell Craig and his dad that you have a new customer for life and anyone I can send you. I am very pleased with everything. Thanks again
Tony
---

Hello Vicky. Received tanks today (very quick, worth extra freight alone and very well packed). Very happy customer.
Thanks Steve.
---

Hi Rob, Just Received the part that i ordered and would like to say thanks for all of you quick response during our conversations'. Never thought i would get the part i wanted so the bike is looking back to A1 now. Best regards Paul Hartley
---

Hey Rob, I attached a few pics of the 1959 Panhead bike all put together
Bryan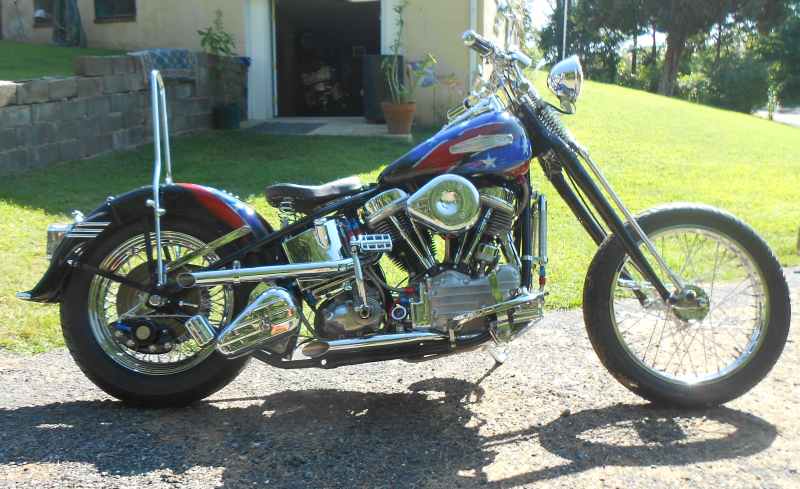 ---

hi thks its great got here quick and no damage nice job mike
---

Thanks rob excellent job tour pak arrived in good condition every thing ok better Than expected.once again thanks to all. Regards john.
---

Hi, Just wanted to let you know that I received the part I ordered from you. It's in super condition. I had ordered a front heat shield for 2010 flhtcu. I am from Montreal Canada. Thanks again for the great service over the phone and the rapid shipment. I will order parts from you again without hesitation. Regards Jean-Francois (JF) Larente
---

Rob,
Thank you to Jim and yourself. I just received my package in the mail.
The Tachometer bracket is exactly what I need. Correct part, the very first time - ordered via email and finalized by phone, 1/2 way across the country. Awesome! Your knowledge of parts is evident.
The condition was very good. Just a little Blue Job polish and it looks like new.
The price you charged was more than fair, shipping was prompt the shipping price was honest (unlike some other companies).
Thank you again for your assistance with this Harley discontinued - very hard to find part.
Feel free to use me as a reference.
Virgil
Springfield, MO
April 2013
---

Rob's,
Part fit perfectly!!!
Thanks for your help.
Mark.
---

HOG WILD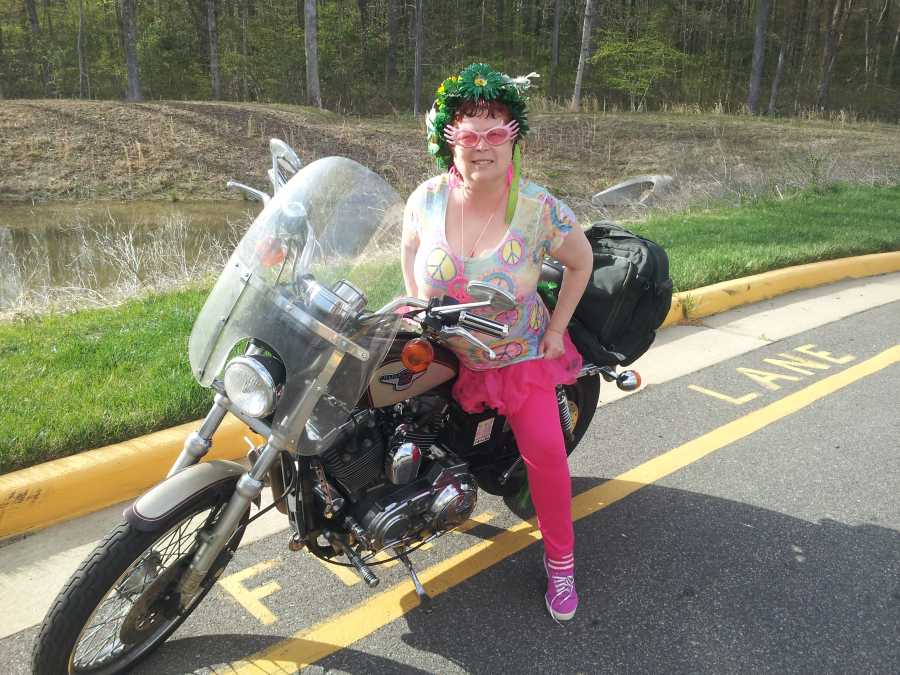 ---

Hello Rob. Just a hello and thank you for delivering parts as you said and letting you know I am a satisfied customer. With regards Steve. Have a good day.
---

Hello Rob, I recently purchased a BEAUTIFUL TANK SET from English Jim. I am so happy with it, I decided to send you some pictures.
Larry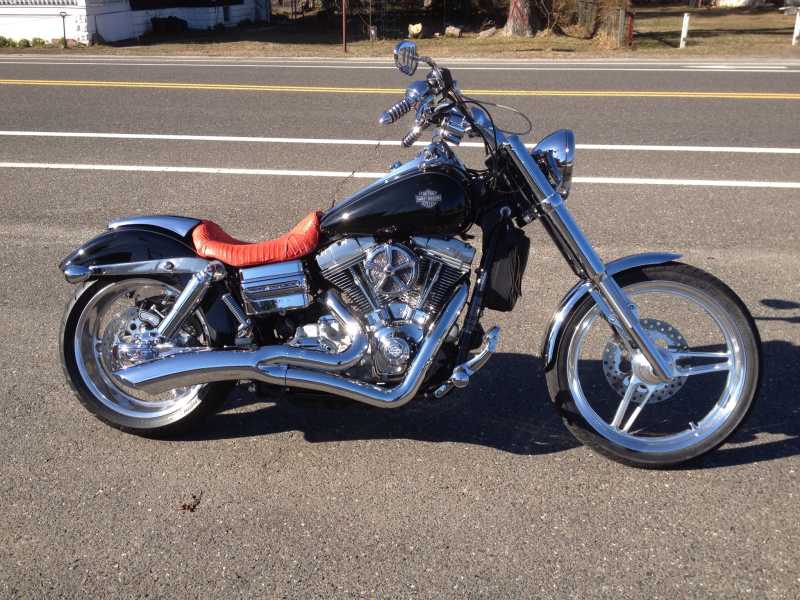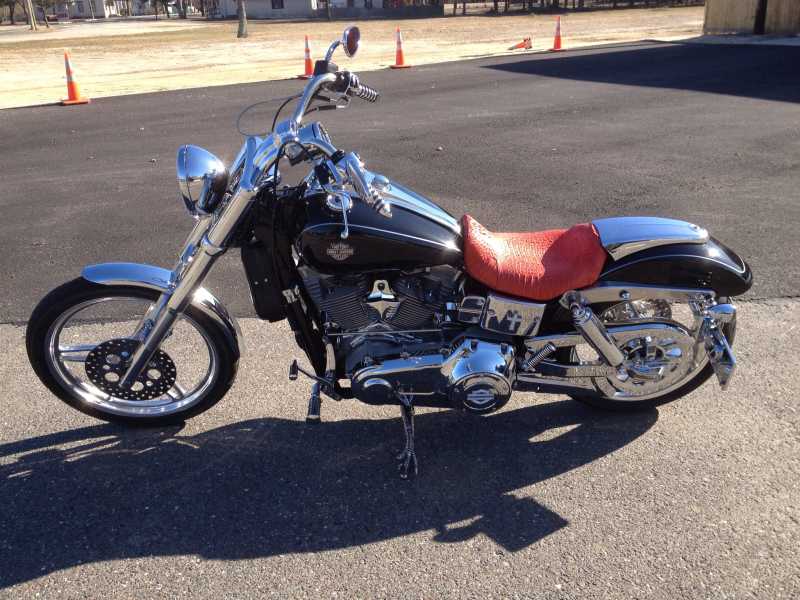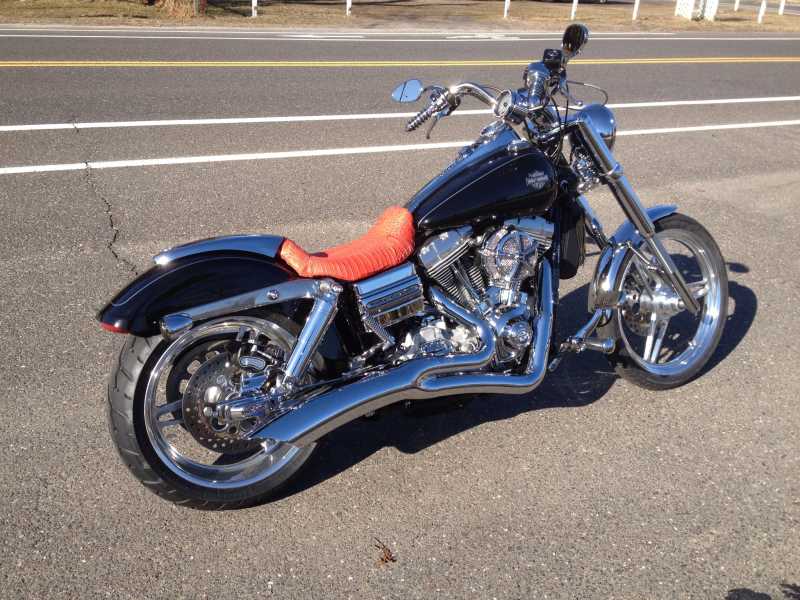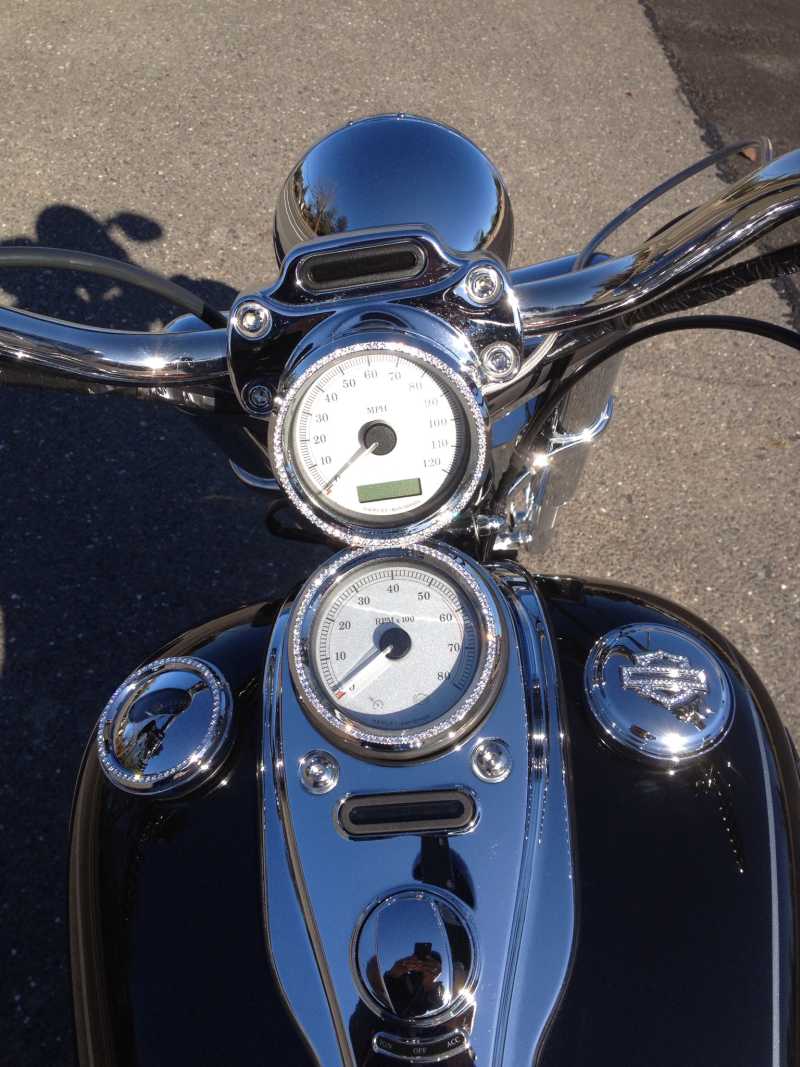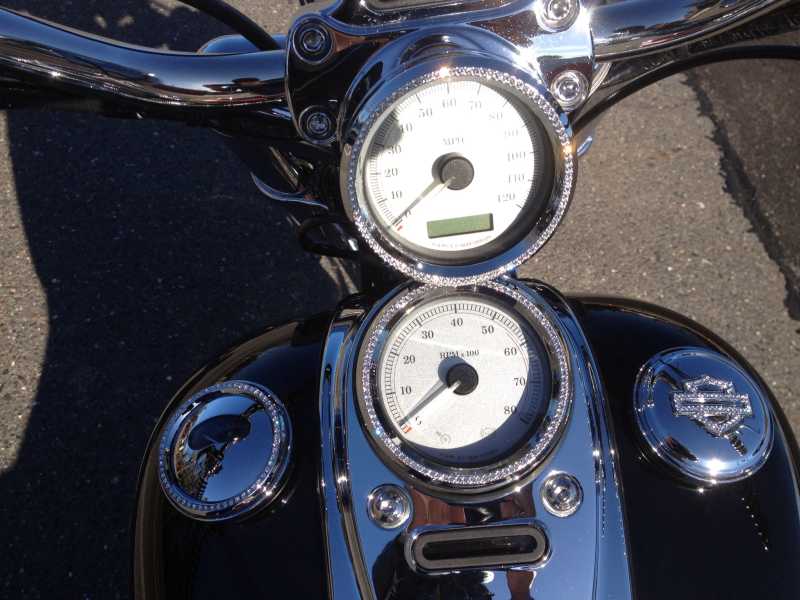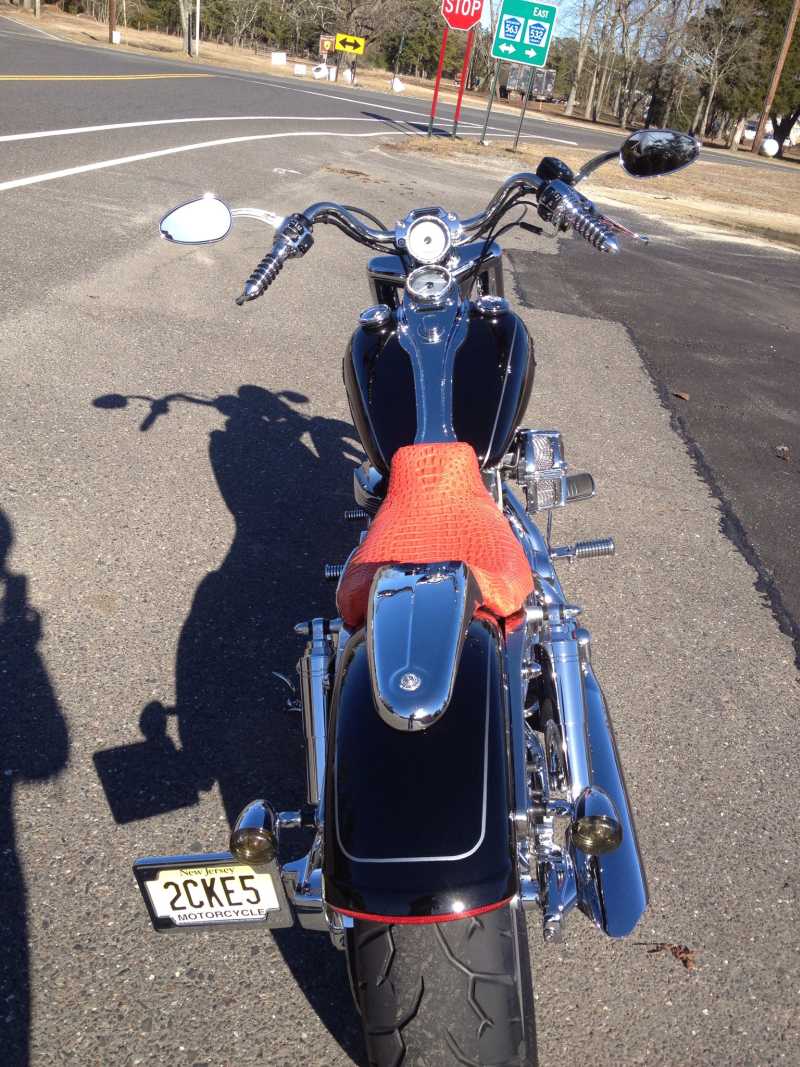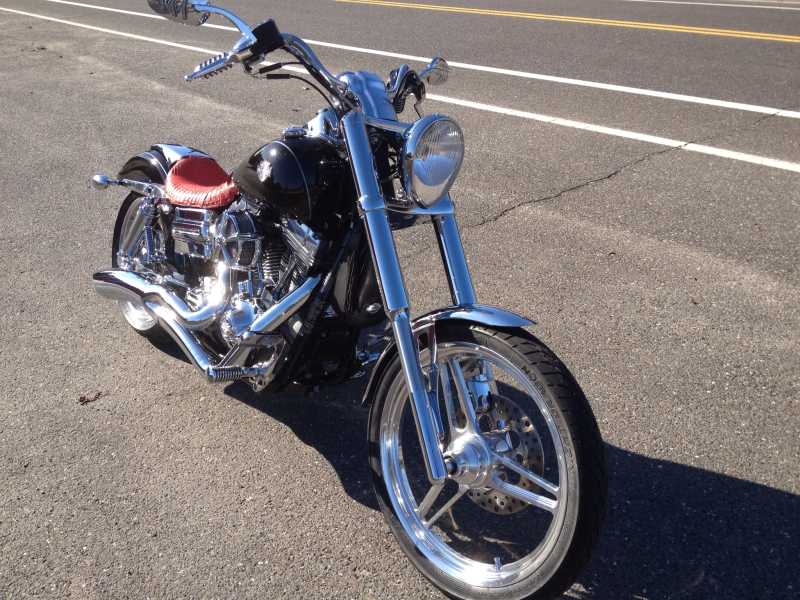 ---

Pictures of finished bike with tank I bought from you
Scott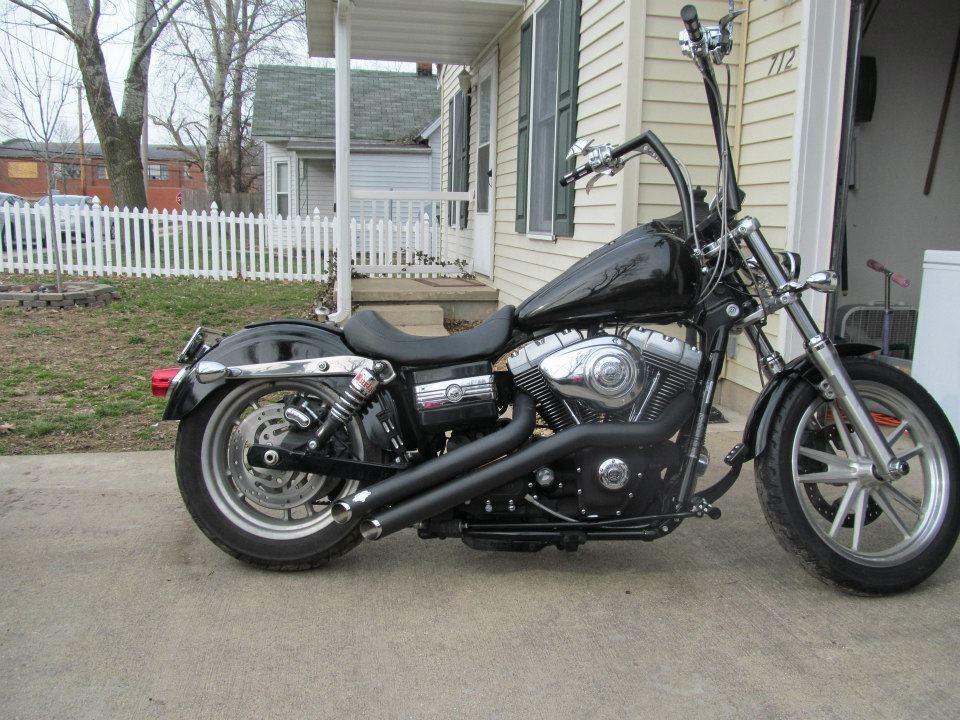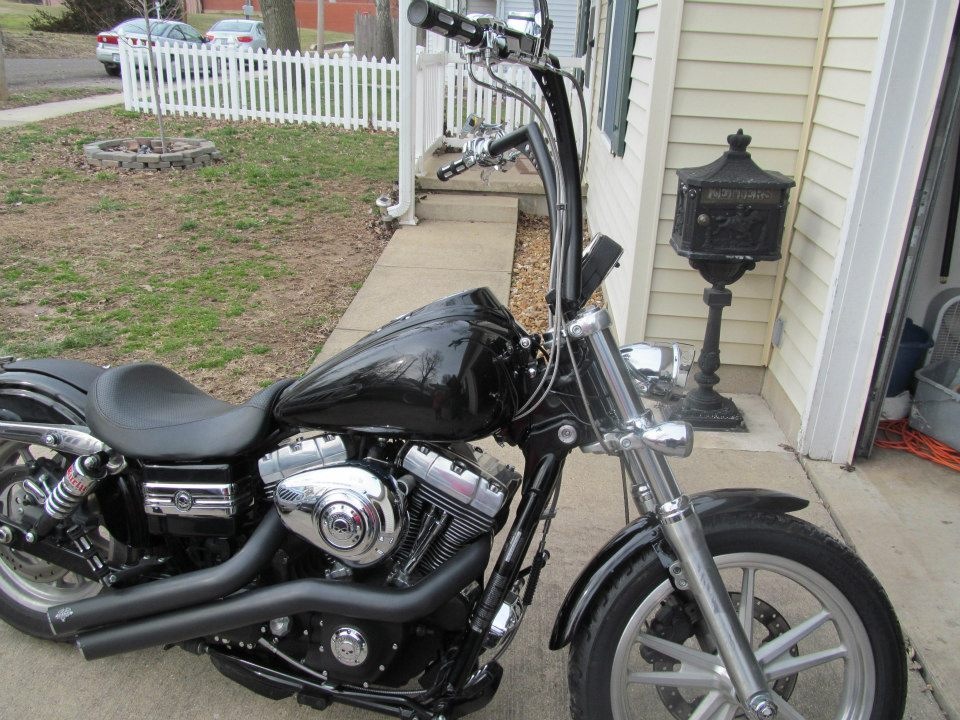 ---

Tony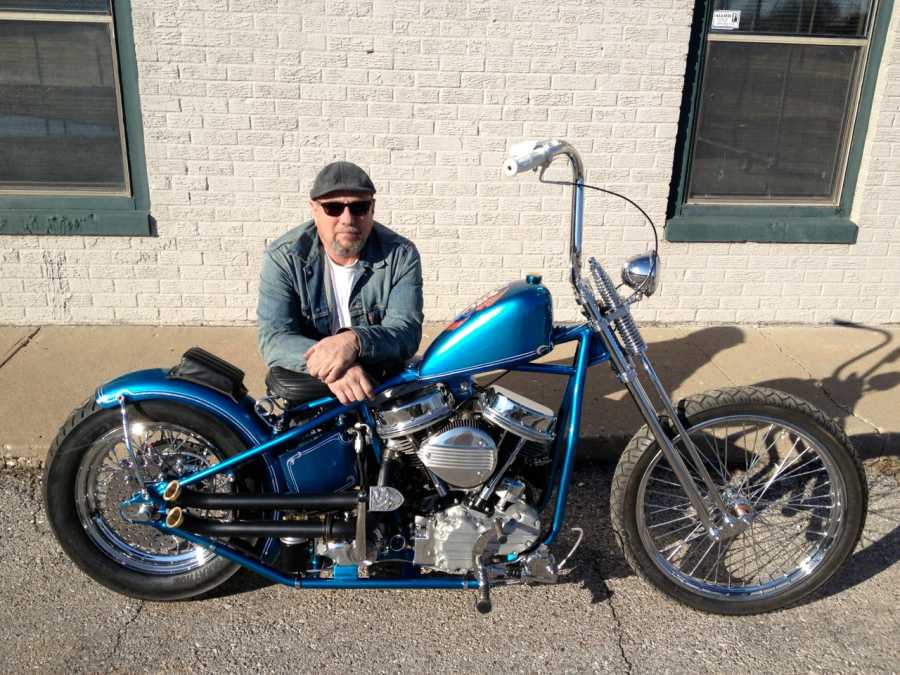 ---

Engine Pics
Had some good weather, beer & assembly....Wiring harness next in line
David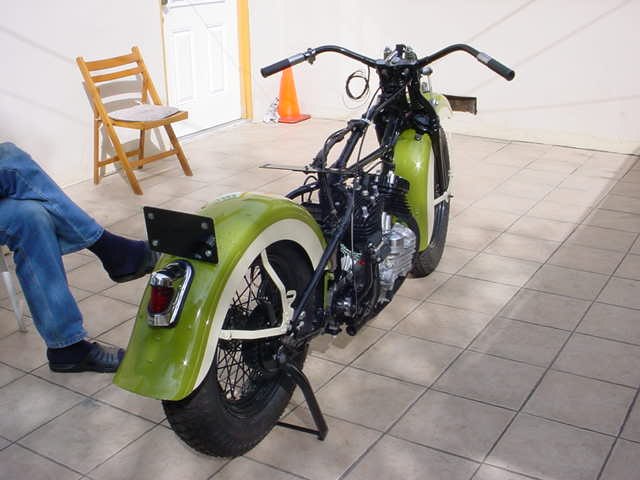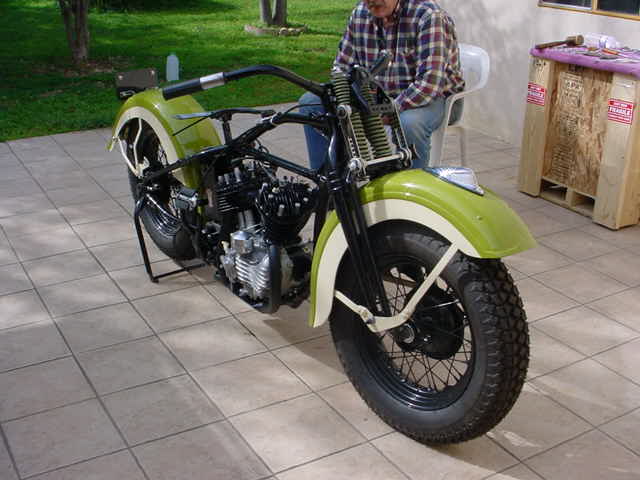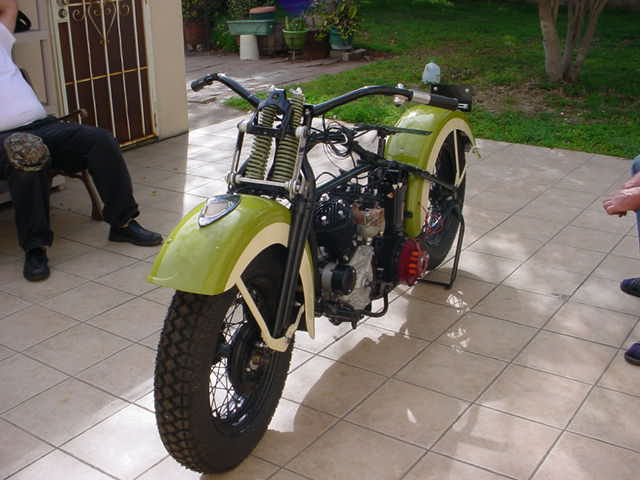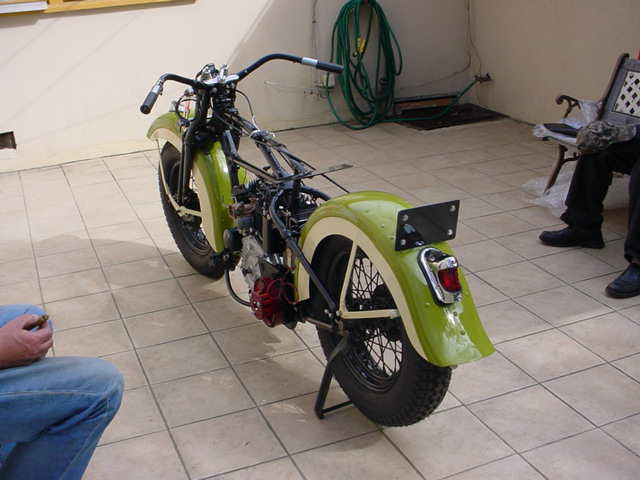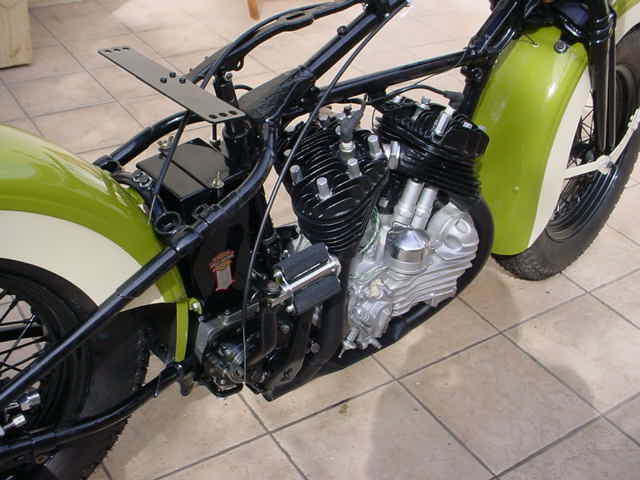 Hey, Tough guys, through your leg over this.....Just goes to show what happens when you don't have a life, but a lot of time and money to burn....
1946 Harley Davidson model 45"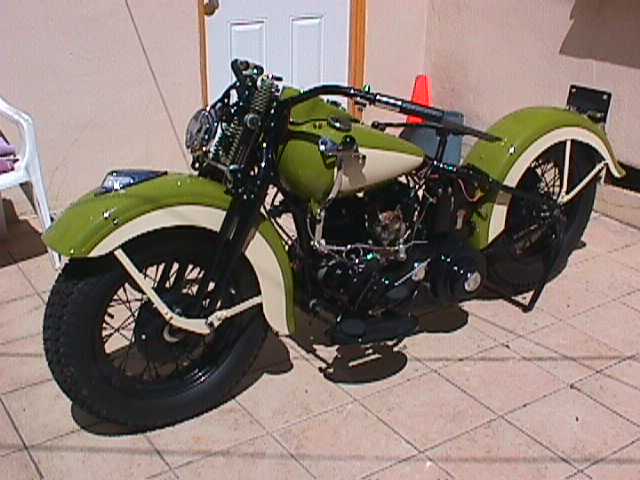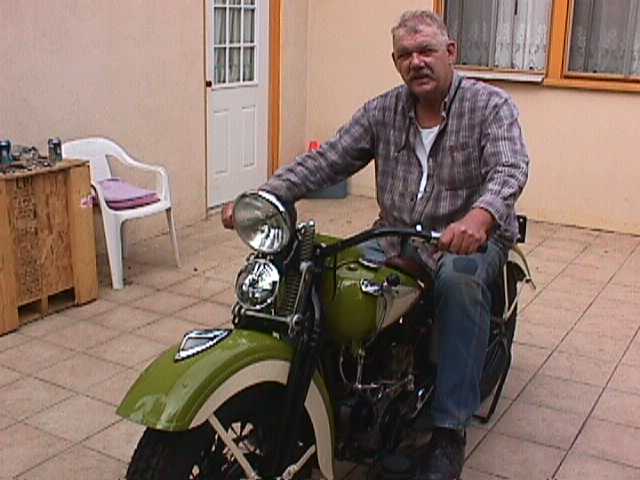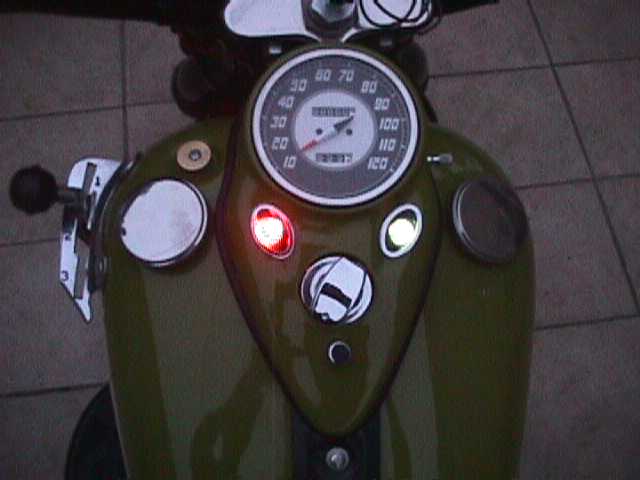 ---
I really appreciate the service Jim gave me, I ordered a chrome oil tank for my '06 Soft Tail and it was shipped and received within a few days, already have it installed! Great work, thanks!
Tork
---
Rob,
Contacted you on your website, but thought I'd send you a pic of my ride from here. The Beast, as I call her, runs good.
Josh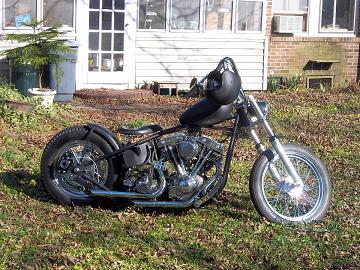 ---
Hello!
Would like to show you my Harley after the fitting of the paint set I ordered from you.Nice?
I'm happy as can be! 1 of May is day off here in Norway.The weather forecast is looking good and we have the traditional ride around the lake Mjosa with hundreds of bikers.Bet I'm gonna get some attention with this bike tomorrow.There aren't that many teal and cream softtails in Norway!
Have a great summer.
Regards
Geir Andreassen.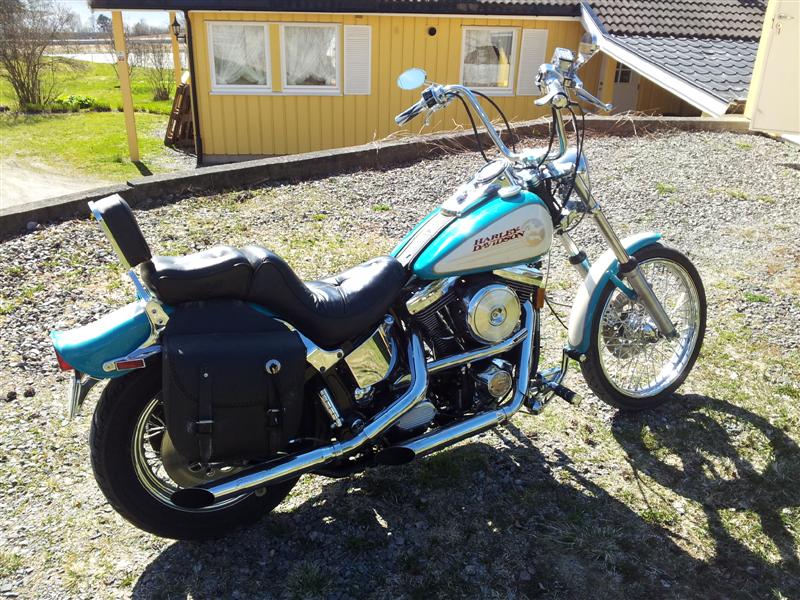 ---
Hi Rob,
Here is a pic of my '77 shovel bobber (rolling chassis, motor, tranny & open belt primary courtesy of Rob's Used Harley Parts). I only have a few minor things yet to do and I'll be tooling down the road! Thanks for all the great parts & service!
Josh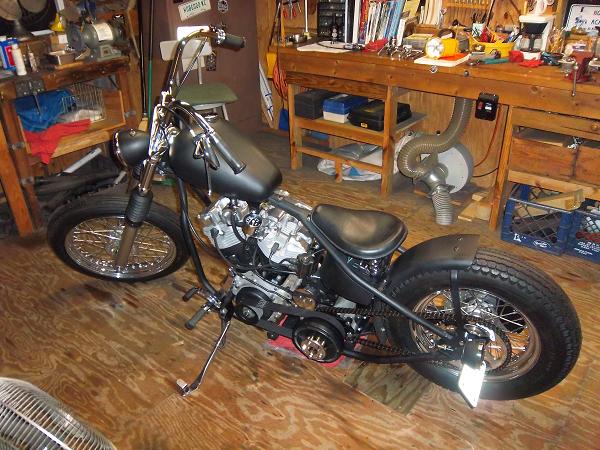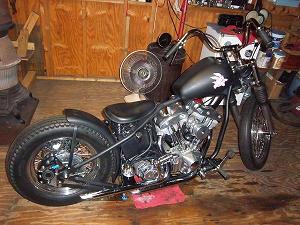 ---
This bike is 100% Robs Used Harley Parts parts!


Hi Rob,
Here is my finished project.
Thommo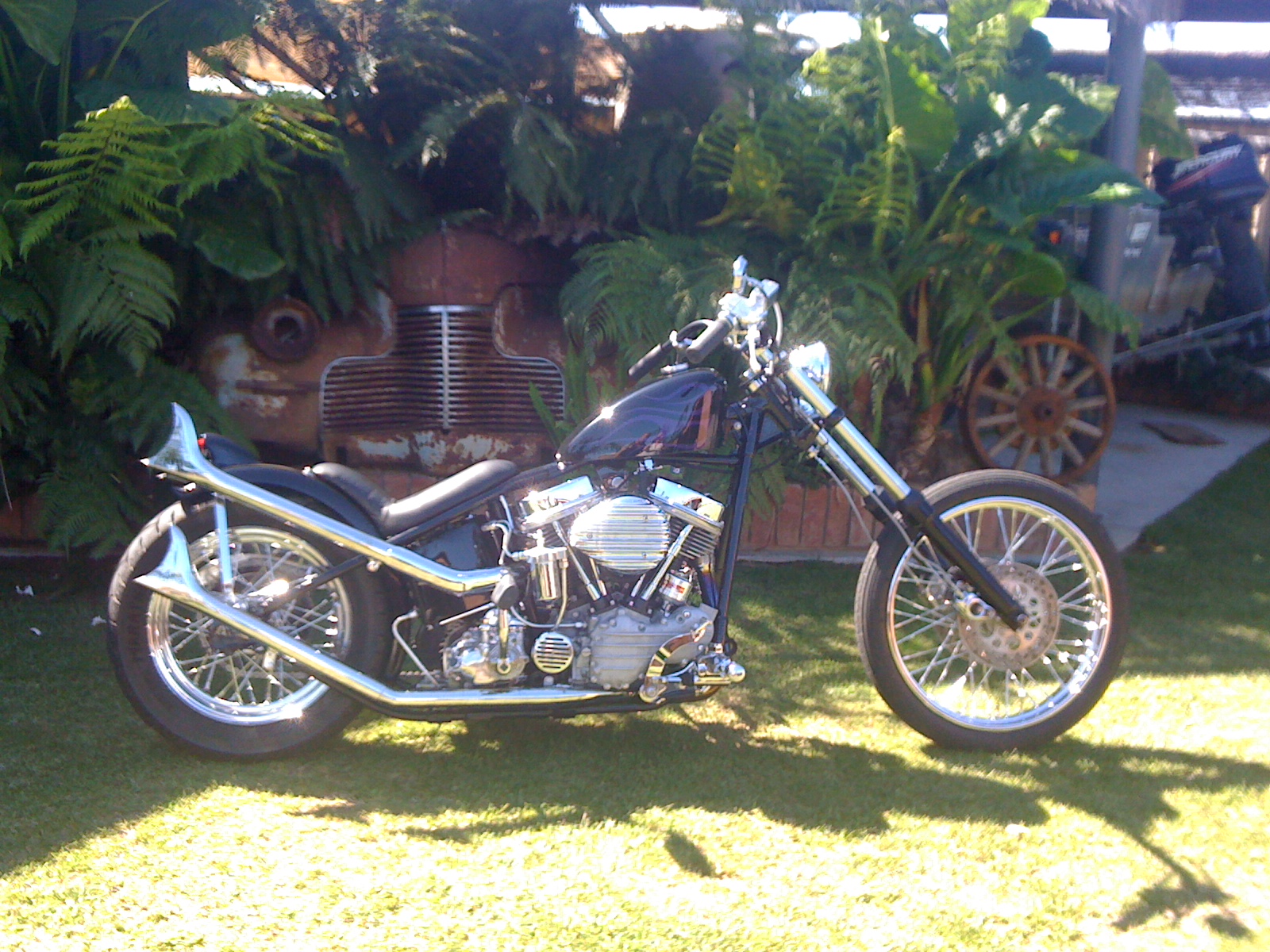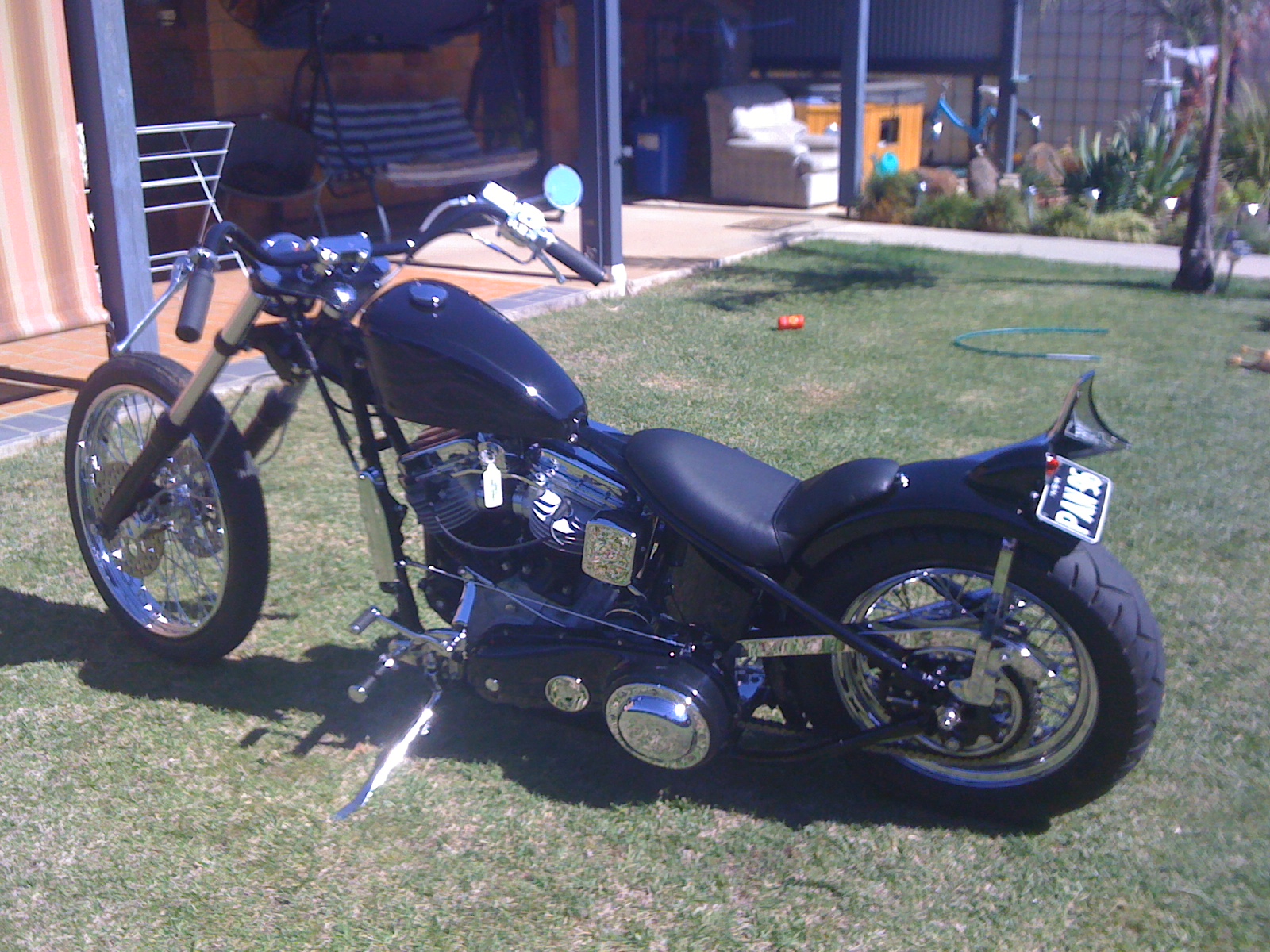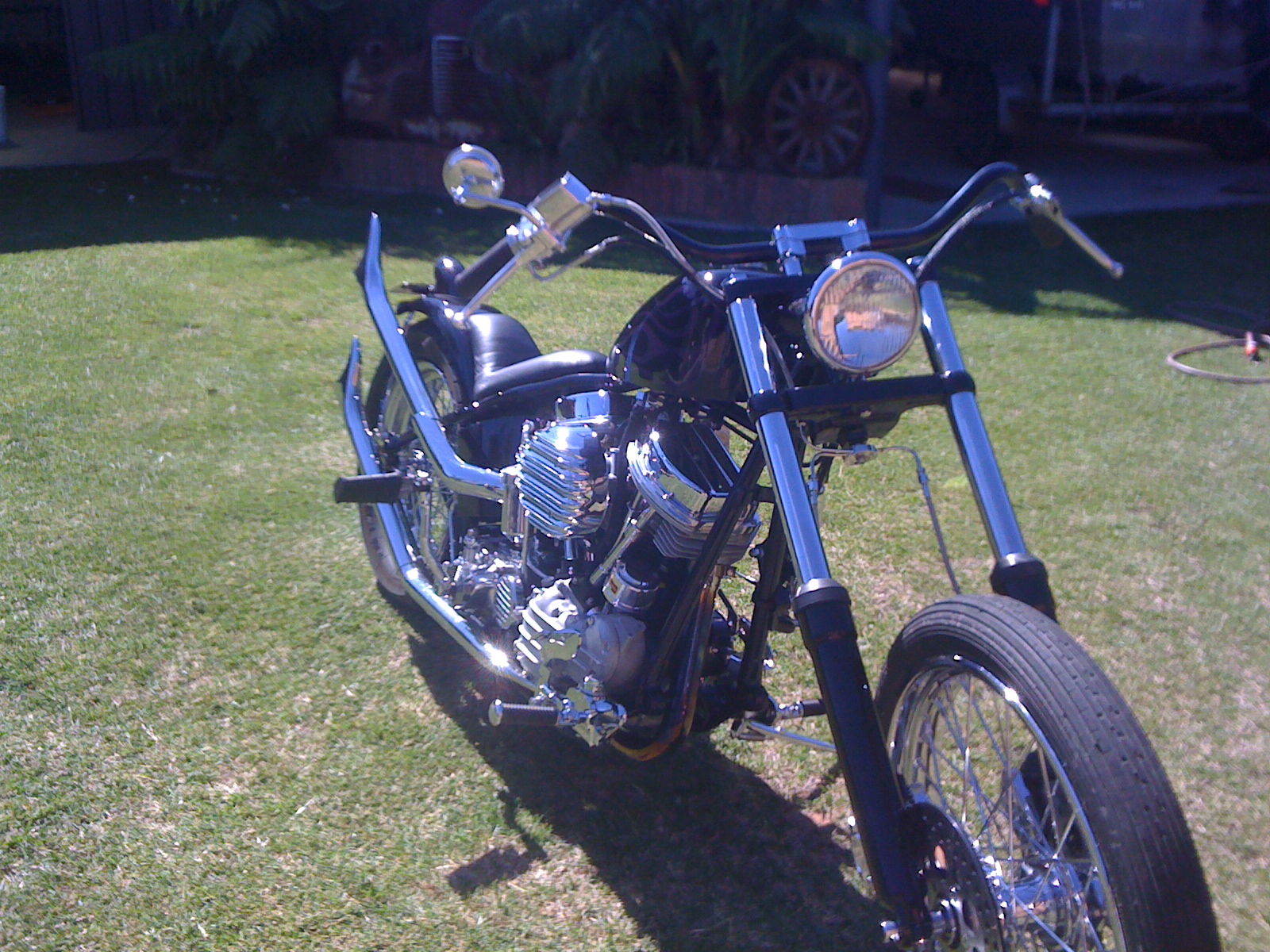 ---

Just wanted to say thanks for all your help with my recent purchase of the Ignition Module and Coil for our 2000 Dyna. Your staff WAS GREAT from the lady who Answered the phone to David and his Directions. You folks are friendly Reasonably priced and helpful with getting our bike back on the road. Glad I was referred to you and I am sharing your Card and website with all the Bikers I know.
Thanks again I'm sure we'll be in touch.
Ann
---
HI. ROB HOPE THE LAST PICTURE MAKES IT ON YOUR WEBSITE, THERE WAS COMPANY BY THE NAME OF LABRIOLA MACHINING HE WAS MAKING DIFFERENTS SHIFTINGS FOR VETS THAT CAME BACK AS AMPUTEES FROM THE CONFLICT. I HAD HIM MAKE ME ONE CAUSE OF THE ACCIDENT I HAD, I LOST MY LEFT HAND IN A FARMING ACCIDENT SO TO KEEP ON RIDING HE HELPED ME OUT. WASN'T TO SURE IF I WAS GOING TO GO WITH A SPRINGER FRONT END STILL THINKING ABOUT IT. I HAVE A FRIEND FROM SASKATOON SK. THAT HAS A DAMAGED SOFT TAIL AND WILL BE CONTACTING YOU FOR A TANK AND REAR FENDER. THANKS ALOT FOR THE EXCELLENT SERVICE CHEERS LEON
---
Hi just to say thank you for the exceptional service. K McGivern
---
Hello Rob, I know it's taken me "forever" to get you a pic back, but here's acouple of my fatboy... I hope business is well... and as a far as the bike it runs great! Had an oil leak but was able to get that taken care of and it's been a great ride!
Thanks again,
Angela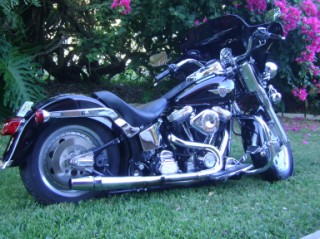 ---
Hey Rob, Just wanted to thank you for the frame you sold me back a few months ago and email you a few pictures of the build I'm using it for.
Thanks again and Happy Holidays,
Mark
---
The bike all finished and clean!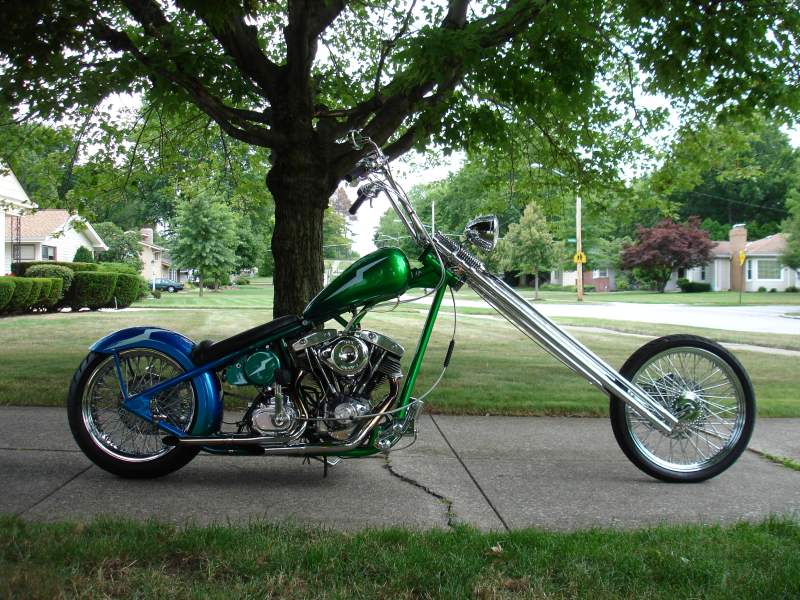 ---
Hey Rob, that inner primary looks great!
Thanks April 'Rosie' Schneider
---
Rob, just short to say thanks for getting my hard bags dropped shipped to NC add. they were on porch when i arrived in perfect condition. what a great way to start bike trip!
thx again Jim Moellentine
---
Thanks for the smooth transaction and quick processing
Kent
---
Thanks for everything you guys have done to help me get my ride back on the road.
Nolan
---
Rob, Here are a few shots of that '98 RK I've been building, thanks to you and your parts. Larry
click here
---
Thanks for the smooth transaction and quick processing Kent
---
Rob - This was the 2nd time I've purchased something from you. This used pipes I bought from you were as in nice shape and looked like new. The looked as good if not better than the factory pipes I took off. I recommend you and your shop to everyone. You are a great resource.
---
Rob & Catilin, Ijust wanted to thank you for your help in getting the parts I needed for repair and up grade of my 04 FXDI. TriCity Power Received the parts yesterday (Friday) and I was there today (Saturday) and had the pleasure of it being Christmas in May. I was amazed at the quality of the parts you supplied. Not only was I impressed but the staff at TriCity as well. As they say, word of mouth is the best advertizing... I have a mountain of praise to throw your way. Thanks again Charles Wallace
---
Got the fender yesterday...looks great. Really appreciate the extra effort to make it right! Also appreciate Mitch for calling me as he said he would. The local mags are very cool as well... Look forward to dealing with you all again... Larry
---
rob, the saddlebag guards arrived yesterday and they are in excellent condition for my application. I'll keep you in mind for future add ons thanks pete d.
---
Rob, I just wanted to say thanks for getting that fender out as soon as you did, I did not think it would make it out here to the sticks that fast but it showed up. I'm very happy with the condition it was in when received, it looks great on my FLHT. Thanks again... Steve Smith Griswold, IA
---
Rob and Gang, Thanks for the fraight, I am so happy to get the Primary! It arrived in excellant shape and the usual Mr. Rob's quality! Thanks so much I was so happy to get these parts for my b.d. I almost hit the floor when the second package arrived and we opened it! It brought tears to my eyes and got a faint heart to receive such a surprise! The pipes are sweet and I am sure they will make Your '73 Shovel crack with pride! Then I opened the card You sent so very thoughtful! I said I 'would' Have drink on You which I was thinking a drink for You then opened the box(lil box) inside, floored again and come to realize I would be having a drink on You!I kan't believe all this Royal treatment From such a GOOD! MAN! I must add, We must have slung iron together in another life! Thanks so much! Thanks to Your wonderful staff! They put up with me also. It is my lucky Day! My b.d. and now because of You and Your's it's scooter day today!!! Thank You for Your help, Your support and Thank You for Your bountiful Kindness! I am very pleased with the parts and hardwares and surprises I have been blessed with! I will enjoy the "JACK" this afternoon very much, just as soon as my duties are done. SCOOTER DAY IS BACK ON THE MENU BOY"S! Thanking You so Much Susan & William
---
Thanks for being that Good Man Mr. Rob; Its so hard to find someone that will treat You like a human and FAIR! I found that in Rob's Used Harley Parts and Rob White and Great Staff! I am overwhelmed with Service and Excellant technical and moral sopport You give me. I would like to produce the quality that You and Your Staff does for Me! Thanks and Hat's off to You all! I can't wait for my next shipment it's so FUN to get stuff! from ROB'S kinda like christmas ever week! Wooooooo! It just so happens that We Miss Susan and myself would like to come up and get together and have some good fun! Any bike week is grand for us. We have been tied down caring for Miss Susan's parents we have nott been anywhere in ten years, and our time is at hand. I yearn to meet You Guy's especially Mr. Rob whom I respect so very much! I have waited a long time long time to build the scoot I would be proud to scoot anywhere in the the U.S. especially In Virginia and Tejas of course! Thanks for bringing me so close to my sled! Miss Susan is also excited to go on vacation and to meet You and Miss Courtney and You Staff! We are trying to make it happen as we speak! When is bike week? I could only hope to be through with betsy by then, but will bring ourselves for sure! I hope this finds You'sGuys having a very needed weekend brake! Gotta Love It! And Gotta that Rob's used Harley Parts! Thanking You So Much Susan and William Isaac
---
Rob, I just wanted to drop you a line... I received the FLSTC front end today. Although I don't have it installed yet, I am extremely Pleased with it. I admit I was leery about buying something like this sight unseen but, you are an honest guy and you did me right! I will definitely be contacting you in the near future for additional parts that I need.
Thanks, Jeff
---

hey rob i like what your doing . prices are decent and looks like you do great work . The web site is cool !
---
Rob , I got the evo drive train on sat. looks great!!! and usps stuff came on friday, you kick but!!!!! thanks again
---
Thanks for your support and excellent parts. Because of your help I will continue this build! I am almost ready for my 1st mock up from my bskt. case I always wanted! I hope others out there find the help I did!
GoRobsUsedHarley.com
---
Rob, thanks for the great service.I contacted you in regards to a light bar for a softail,made the purchase on Friday and it was at my door Tuesday.The part was the quality that you told me it was in, very good/new condition, and the price was very reasonable.I will contact you first for any future needs to complete this and other projects first.
Thanks again,
Joseph Bryer
---
Mr. Rob,
Again I would like to thank you for the saddlebags. The shipping was super fast, and I am very appreciative of that. I have been scamed before by using the internet. My wife and I have nothing but good things to say about you. We really look forward to doing business with you again. I will send some pics once the bags go on.
Britton Ikner
---
Thanks, Rob for the qreat service. Received the parts here in Pembroke on Monday Feb 11. Everything was OK Hope to do more business with you as we will be needing a few more parts. Thanks again.
Frank (William) Cole
---

Hello again, The UPS man just delivered my fender about 30 minutes ago, and I've already got it installed on the bike. It looks great!! Thank you SO much. I have no idea why the previous owner did what he did, but I'd never start drilling holes in the tins of an anniversary edition bike. I was a little apprehensive about buying a used part without even seeing a picture, but you really came through with a nice part. Now, if you have a matching tank, I might be interested in that as well if it's in as good of shape as the fender. Again, it's the '03 Anni lowrider in gunmetal blue with the Anniversary stripes. Let me know if you have one.
Felix
---

Hi Rob, Picked up the bike Tues, runs GREAT!! I love the power...!! Can tell big difference!! I have a thunderheader pipe... I'll try to get ya a pic... after a bubble bath! = ) ...will get that crate sent too...
Thanks,
Angela
---

I got this nice front end from Rob's Used Harley Parts and. the bike is now lookin for a new name ! Any ideas
Rami Khalifeh
Bahrain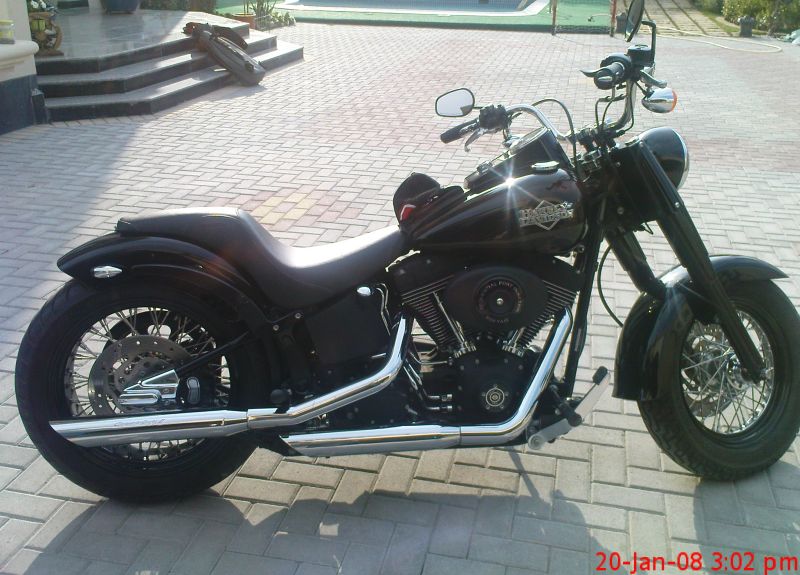 ---

Rob, I have completed My home built chopper. I spent 2 years I bought most of my parts from you. (Engine, primaries, clutch, starter, ignition system, brakes. The quality of the parts & your service were top notch I built the frame and as many parts as I could from scratch using plans from wwwchopperhandbook.com. I submitted your name to the site as a good source to buy parts. The engine runs nice, and I have ridden the bike 4,000 miles since I have completed it. Here are a few pictures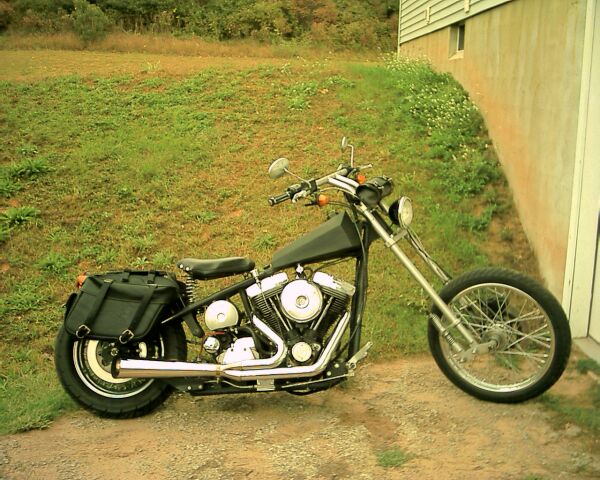 ---

Hello Rob: Thank you very much for the gas tank, we received it last Friday and it was a perfect match. My friend was like a kid in a candy store, he was able to get his bike back together on Saturday and take it for a ride. Your staff was very professional and courteous. Thanks again, Christine House The Whiting-Turner Contracting Company Safety Department
---

Rob, I bought a rebuilt EVO from you 10-28-05 and just fired it up today. I toredown and rebuilt my '93 springer with 100,000 on it. It was your engine that made the rebuild perfect! With the first drop of gas to hit, it took off in perfect time. Lots of power. The screamin' eagle pistons matched with a screamin' eagle exhaust is unbelievable. Delivery-great,What you said it was, and then some. I would recommend you to anyone wanting great stuff, no hassle and the truth!!!!! Thanks and thanks again. DUSTY
---

Rob,I know you sell lots of stuff but heres a picture of your engine in my bike Happy Holidays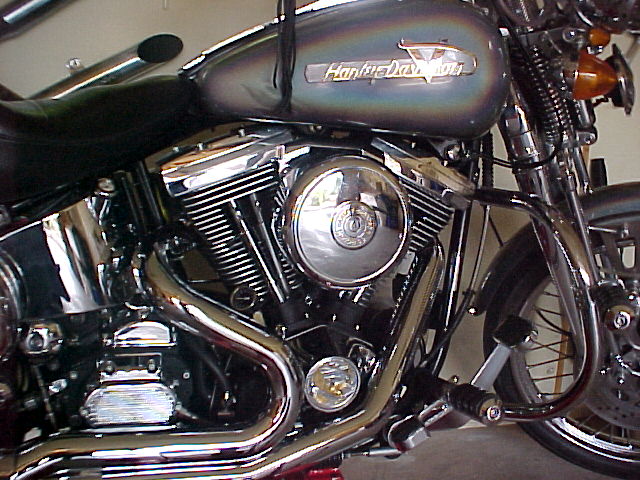 ---

Hi Rob: Got that tour pak in thursday,looks good.I'm very satisfied! Definately will use you again,also refer your biz. Thanks again Hoggman61
---

Hi Rob! Thomas "IDI" Idebrant here. I've mailed you a few pictures of my Softail Standard 2002. This winter I rebuild the rear end of the bike. I still use the floor boards I bought from you. Regards Thomas
---

Rob, the parts are better that you told me. I am very pleased with what you sent and will try to visit you when you are in Harrisburg. Thank you. Paul Dougherty Benefit Coordinators Service, Inc.